Lights Beach, Denmark
Lights Beach is the place to watch waves.
The Lookout at the carpark is inspiring with a paved walkway heading west along the ridge behind the beach offering spectacular views of the beach and heathland. At the far end of the path a staircase will take you onto the sand and into William Bay National Park from the east.
William Bay National Park covers almost two thousand hectares and has some of the most spectacular coastline including Greens Pool, Elephant Rocks, Elephant Cove, Tower Hill. Located south-west of Denmark along Lights Road which is accessible from the South Coast Highway and Ocean Beach Road. See the map of Denmark and surrounds to get your bearings.
Taking the Bibbulmun Track from here leads past Waterfall Beach and Madfish Bay then across the hillsides to the Tower Hill station. From Tower Hill you get views of Greens pool and Elephant Rocks below. Hiking gear required, this is a long-distance trail.
It is a rocky stretch of coastline showing clearly the power of the frequent large waves coming ashore. Always be careful when near the ocean. A good tip is to look at the highest water mark and stay well above there. Watch children at all times. We enjoy visiting Lights beach. The car parking is sufficient, and the trails up and down the coast are pleasant.
See the Denmark and Surrounds Map (Reference H) to see where Lights Beach is located.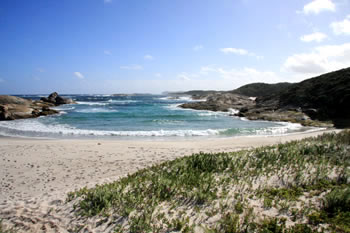 In winter water courses off the heathland and on to the beach on the far side of the rocky island offshore. It is usually stained tea-like by the leaves and branches steeping in the waters.